We offer a selection of traditional analog camera models and interface items. Our selections will be continually upgraded to include more products. If you donít see what you need, contact us for more models not listed at this time.

Our S-video adapter solves the often difficult problem of limited s-video monitor models by converting the signal to VGA compatible format. Use the monitor of your choice.

Digital camera systems and software are also available for all applications in a variety of performance levels.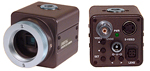 CAMERAS (NTSC/PAL):
We offer a variety of standard analog cameras from low cost color to Infra-Red sensitive models


S-VIDEO Interface:
A low cost solution for interfacing video cameras to standard VGA flat panel monitors. No need to purchase costly special S-video input models; use with any VGA input monitor.


VIDEO CAPTURE:
Our S-video capture module installs between the camera and your monitor. Images are captured to standard Compact Flash memory for later download to your computer. An easy to use alternative to video capture boards. S-Video and composite IN/OUT.


DIGITAL CROSSHAIR GENERATOR:
These modules install between the camera and monitor to provide a variety of crosshair / rectangular / circle patterns. Digital circuitry assures stable sharp patterns with adjustable line width. Analog models also available.